No matter how big or small, every home has at least one bedroom. This is a place where we can rest and rejuvenate after a long day. A bedroom should be a haven – a place where we can relax and be ourselves.
Sadly, many people do not give much thought to their bedroom design. They may not realize it, but the way our bedrooms are designed can have a big impact on our quality of life. A poorly designed bedroom can be a source of stress, while a well-designed bedroom can help us relax and recharge.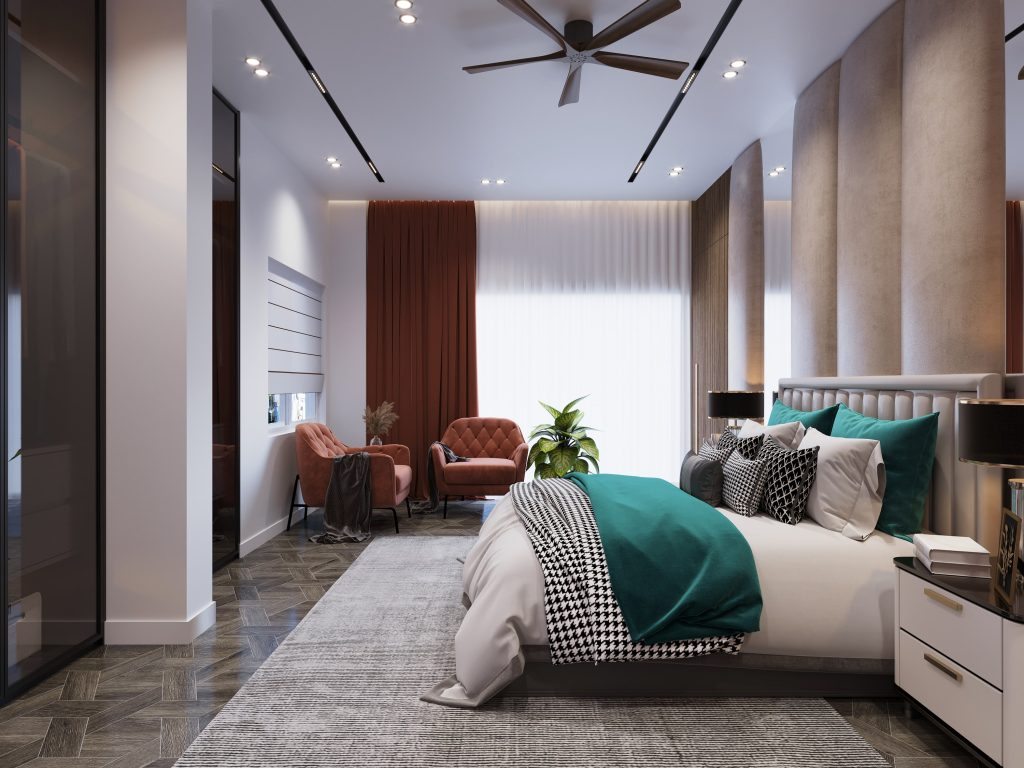 In this blog post, we will explore the different types of bedroom designs – and how to design your own. We will also discuss the key elements and necessary items in a bedroom, as well as the bedroom environment and vibe.
COMMON PROBLEM IN BEDROOM DESIGN!
Your bedroom is your personal sanctuary where you can relax and refresh after tiring day. It is important to design your bedroom in a way that creates a relaxing and comfortable environment. However, with a little planning and creativity, you can achieve the perfect design for your space. and what most people do not do while getting their bedroom designed is, proper use of space, theme, etc. Factors such as comfort, luxury, healthy environment, natural light, and vastu shastra should be considered while designing your bedroom.
Creating the perfect environment for peace and relaxation is important for mental and physical well-being. The bedroom interior should reflect your personal preferences and suit your lifestyle. From the décor, furniture, and interior design, everything must work together to create the perfect atmosphere for a great night of sleep. Moreover, the bedroom should also be a practical space where you can store your clothes and other items neatly. Working with an interior designer can help create the perfect bedroom that is both stylish and practical.
WHY DESIGNING YOUR BEDROOM IS IMPORTANT?
Designing your bedroom interior can be a tough task. However, with a little planning and creativity, you can achieve the perfect design for your space. There are a variety of different styles that you can choose from when designing your bedroom. Bedroom is a space that reflets one's personality and mood.
So, in order to achieve the best design for your bedroom do your research and come out with some references, as they will help you or the designers to plan out things. And pre decide that what is that you typically want your bedroom to look and feel like! Because it will become a huge problem once you are in between the process and you change your plan and decides something new, what I am trying to tell you here is that it is not impossible to change the design when it is undergoing, it is just, when the design is changed in between the process it becomes slightly confusing & a bit of a challenge to redesign the whole space and adjust everything accordingly! Which will later add up to the cost and end up taking more time to complete! Which is something that you would like to avoid in the first place.
There are some things that you should avoid to keep your bedrooms vibe alive and attractive, like, avoid placing too much furniture, avoid clutter, let there be space to roam around and navigate, avoid using furniture with sharp edges and corners, lights that create glare, excessive dark elements.
HOW TO DESIGN YOUR BEDROOM?
Designing your bedroom is a fun and creative process. Start by defining the desired style and atmosphere, as well as the essential items that will be included in your bedroom. Once you have the parameters in place, you can move on to the nitty-gritty details. Choose a color palette that resonates with you – and remember, lighter colors tend to create an airier atmosphere, while darker colors can be more inviting and cozier. Try to come up with an inspirational quote that you can set as a design theme for your bedroom – this will help to keep all your design choices consistent and in line with each other. Finally, make sure that you take the time to plan your bedroom layout. Not all furniture pieces will fit the space perfectly, and it is important to consider how you can maximize the space in your bedroom. Once you have everything planned out, you can start bringing it all together to create a beautiful and functional bedroom that you can enjoy for the years to come.
DESIGNING A BEDROOM FOR RELAXATION.
One of the most common types of bedroom designs is a relaxing space. A well-designed bedroom for relaxation should be free from clutter, as too many items can be visually overwhelming and chaotic. When it comes to colors, you should avoid bright colors and instead opt for light colors such as pale blue, pale pink, or beige. To achieve a cozy and peaceful atmosphere, consider adding items like scented candles, essential oils, and low-wattage light bulbs. Furthermore, it is important to invest in good quality furniture and mattress. The furniture should be comfortable and inviting, while the mattress should be comfortable and supportive. Comfortable furniture and a supportive mattress can help to create an environment that is perfect for relaxation. It is also a good idea to include a reading corner in your bedroom so that you have a space to escape and relax.
NECESSARY ELEMENTS FOR A BEDROOM.
Bed, side tables, tv console! That is what comes to your mind when you think about a bedroom. But there is much more than a bedroom is about, as per modern requirements there are new demands popping up, some examples are like, air purifiers, ambient lighting, etc. so I am listing out a few essentials for your comfy place that might help you out while designing and planning your bedroom, (and they can differ as per the need of the client or design).
Mattress– a mattress is something very important to consider while buying as if you will get the wrong one, it might affect your health in the long run. As it will affect your sleep, your posture, and much more. So, I would recommend you choose a mattress after having complete knowledge and testing.
Lights– The ambiance of the space is directly influenced by the lighting type you are using, it's being suggested that make sure that there is plenty of natural light entering the space, it is because of the health benefits that it carries, and obviously, from the design point of view, it helps highlight the design details in the best way possible, and it adds character to the design. so, make sure to use proper fenestration for your space.
And do not forget artificial lighting, it is important to strike a perfect balance between natural and artificial lighting, as during the dark part of the day it's crucial to have adequate lighting. in that case, you will find it difficult to navigate through the space and if you are a book guy, so you need proper lighting so that you will not end up with bad eyesight. And apart from these using lights in a creative way will automatically enhance the beauty of the space.
Tv console– entertainment for some is like oxygen, so having a tv in the bedroom is quite common, and some love to play games, so they have got entire gaming console in their bedroom! In order to keep all that stuff in an organised way we use a tv console unit, it houses all the equipment and cables in a very ingenious way, so that nothing is visible outside, and provides some additional storage space. and fills that void in front of the bed, and the design is always according to the theme used throughout the room design.
So, the problem here is, that sometimes people choose a console that does not stand out, either in terms of design, storage, or functionality. So, while looking for a console or getting one designed, go through all the options and keep in mind the size, height, and functionality of the console.
Side tables– More storage is always good, and a bed without complimenting side tables is like a cake without cherries, so get your side tables designed accordingly. Make sure they have got plenty of space and a fabulous design.
Draperies– only for three reasons, privacy, blocking sunlight & creating a sense of softness in your space. so, choose drapes according to your taste. And some good fabric drapes with a perfect finish will make your design 2x more luxurious and elegant without costing more.
Mirror– everyone loves to adore their beauty! To fulfil that you can have a mirror in your bedroom, and in terms of design, adding mirrors in your space will make it look bigger than usual, it adds a sense of depth, and its shine adds up to the all-over beauty of the design, and it symbolises luxury.
Art– adding some beautiful art pieces to your space will create some emphasis in the design, and they reflect your interests and adds a personal touch to the design. art can be of any type, it can be an abstract painting, it can be a décor item, it can be a scaled car model, etc. adding art will simply spice up the feel of the design, just make sure it blends in with the colour scheme in an appropriate way, and look proportionate, and shape does not matter that much.
Plants– we feel more comfortable when we are surrounded by the elements that we love or give us good vibes. And our body feels way more comfortable in nature, as our body is made of the five elements and it is crucial to get close to those elements and recharge our body. By bringing plants inside we are creating a healthy environment for us, a space where we will enjoy our vibe, as plants are the best air purifiers and mood enhancers, and they use no electricity to do that, they radiate positive energy into the space, and makes the view pleasant to the eyes, as it is scientifically proven that human eyes are most active for green colour.
By adding green elements to our design, we can create a space that will calm our bodies, relieve stress, and heal us. And adding plants into a design is very easy, as they go perfectly with every design.
Some questions that you've to keep in mind while picking up plants are, ventilation, some source of direct sunlight during dawn and dusk, types of plants, if they are seasonal or not, if you are allergic to some specific plant or not, do they attract insects or not, etc.
but I would highly recommend you to add some plants to your space!
Ventilation– controlling the indoor environment is crucial, if the temperature or other factors are not suitable for the body it will become very uncomfortable for the body to stay in that space for long. Indoor environment can be controlled by using mechanical aid or by designing the space in such a way that it will sustain its own environment, or by adding plants to the space. and make sure that there is a proper flow of air inside, either active or passive, it will keep the environment clean and will prevent any harmful or unpleasant elements to stay inside. Because keeping the environment clean and healthy is one of the important things that a designer keeps in mind while working on the design.
Styling your bedroom can be easy and fun. Use accent pieces and accessories to personalize the space and make it unique. Pillows and throws will add a cozy and inviting atmosphere, while lighting and candles create a relaxing and intimate atmosphere. Pay attention to details and look for pieces that will compliment your bedroom style. Mirrors will bring in visual balance and make your bedroom look bigger and brighter. Add some greenery to your bedroom space to add a refreshing and natural feeling.
The bedroom interior should reflect your personality and lifestyle. There are a variety of styles that you can choose from when designing your bedroom space. The list goes on, but the options that I have mentioned above are necessary to consider, as if one gets missed, it will directly compromise the comfort and the feel of the space, and will disturb the design scheme.
DIFFERENT TYPES OF THEMES FOR BEDROOM INTERIOR DESIGN-
Choosing the right style for your bedroom interior depends on your personal preferences. You want to select a style that reflects your personality and lifestyle, as well as provides you with the necessary storage and practical elements for a comfortable bedroom.
Evaluate the purpose and functions of the bedroom and select a style that will suit both your needs and style. Consult with an interior designers in Chandigarh to get advice and learn about the various furnishing, lighting, and accents available for your bedroom. 
Below, we will explore 8 different styles that you can use to design your bedroom interior. Modern, Contemporary, Mid-Century Modern, Scandinavian, Rustic, Industrial, Bohemian & Minimalist.
Modern style highlights strong lines and simple designs. Focusing on neutral shades and geometric shapes, a modern bedroom will make the room look spacious with sleek furnishings and modern accents.
Contemporary interiors are characterized by their relaxed and inviting atmosphere. Subtly blending traditional and modern elements, the contemporary style offers a great opportunity to create the perfect look for your bedroom.
Mid-Century Modern combines classic elements from the 1950s and 1960s with modern accents. Characterized by organic shapes and natural materials, the mid-century style works perfectly with contemporary trends.
Scandinavian bedrooms offer a simple and minimalistic look. Neutral colors and natural wood tones are key elements for this style, allowing for a bright and airy atmosphere.
Rustic style draws on warm, rural elements and traditional materials, creating a cozy and welcoming ambiance.
Industrial style draws on industrial elements such as industrial lighting, galvanized metals, and reclaimed wood to create the perfect bedroom.
Bohemian interiors fuse vintage items and exotic textiles to create an eclectic and unique look.
Minimalist style is all about clean lines and simple designs, free of unnecessary accessories and décor. Finally, Biophilic design focuses on bringing nature inside the bedroom, combining patterns and materials inspired by nature with organic elements.
It is important to select a style that suits your personality and preferences. You should also keep in mind the above-mentioned key elements for the bedroom design according to the theme that you are going to work on with.
After selecting a theme, get some references and figure out the basic details that you love about those references, and then start working Mood boards with a professional, are a helpful tool that can be used to select a theme and colours for your bedroom interior. Once you have finalized the design, you can hire professionals to help you execute your vision.
CONCLUSION-
Designing your bedroom interior should be fun and exciting. Select the right style that will reflect your personality and lifestyle, and pay attention to details to create the perfect environment for relaxation. Consult with an interior designer and create a plan for your bedroom that will meet your needs and budget. Even small accents and accessories can make a big difference in the overall look of your bedroom. By carefully selecting the right elements for your bedroom interior, you can create the perfect atmosphere for a good night's sleep!
A bedroom should be a place of rest, and it is important to give thought to the design and atmosphere to achieve this. Whether you are creating a bedroom for yourself or two people, it is important to consider the type of design you want and the items that should be included in the bedroom. There is a style and design that suits any taste – and with some creative planning, you can design your perfect bedroom.